Hamlin Fistula Ethiopia has undergone many exciting changes this time around. New staff members are aboard, including:
The First Ethiopian CEO, Dr. Tesfaye Yacob

Planning and Program Manager, Dr. Demissew Beyene

Senior Fistula Surgeon, Dr. Mengistu Tefera, and

Information and Communication Manager, Dr. Teshome Tafesse
First Ethiopian CEO, Dr. Tesfaye Yacob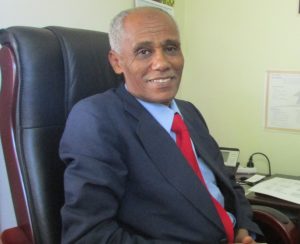 Hamlin Fistula Ethiopia (HFE) has welcomed its first Ethiopian Chief Executive Officer (CEO), Dr. Tesfaye Yacob. He took up the position in April 2016, and since then he has been fully engaged in providing overall direction to the Hamlin Fistula Ethiopia.
"We're thrilled and honored to have Dr. Tesfaye as the first Ethiopian CEO at this very critical time. I'm optimist that he'll bring some remarkable changes in the organization," said Dr. Catherin Hamlin, co-founder of HFE.  Medical Director at HFE, Dr. Fekade Ayenachew, also expressed his optimism about the organization's future. "Dr. Tesfaye has broad experience that makes him uniquely capable of strengthening our organization and the quality and quantity of fistula care, treatment, prevention and rehabilitation we will continue to offer."
With over 30 years of experience as a clinician, trainer, instructor, researcher, director and public health manager, both in government and non-government organizations, Dr. Tesfaye is the right person for the appointment.
A medical doctor by training, Dr. Tesfaye has worked in leadership roles in various organizations and succeeded in transforming many of them. Prior to joining Hamlin Fistula Ethiopia, Dr. Tesfaye served as Medical Director at Ras Desta Hospital, Addis Ababa. During his brief tenure at the hospital, he oversaw a number of projects and achieved unprecedented organizational growth. Between 1996 and 2010, he served, among others, as General Secretary of a church denomination and Executive Director of a large development program. Further to his experience, he worked as Coordinator of a Coalition of Churches and Bible Agencies, Instructor of leadership courses at the Ethiopian Graduate School of Theology, and a Board Member of the Consortium of Christian Relief Association (CCRDA).
As part of his academic contribution, Dr. Tesfaye has produced a number of researches and published them in reputable journals. Some of his research findings show how CSOs in Ethiopia better serve their target communities.  He has also made a number of national and international presentations.
"I am glad to be here and contribute my share," Dr. Tesfaye stated, as he noted that the contribution of each and every member of the Hamlin Fistula Ethiopia and its partners is vital in the care, treatment, prevention and rehabilitation of the fistula injuries. Asked what he has felt since he took up the position, he said, "Things have been going well. Everybody has been very accommodating and helpful. Our team genuinely cares for our patients that are experiencing the agony of childbirth injuries. Our goal is to focus on the individual needs of each patient in a caring and compassionate manner."
HFE staff, partners and members wish Dr. Tesfaye all the very success.
---
Planning & Program Manager, Dr. Demissew Beyene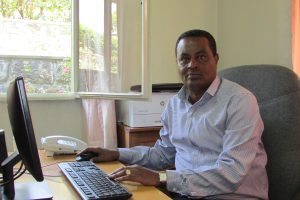 On the 1st of October 2016 Dr. Demissew Beyene took up his appointment as the new Planning & Program Manager of Hamlin Fistula Ethiopia (HFE). "I'm happy to contribute with my expertise, and very grateful for being provided with the opportunity to work at Hamlin," Dr. Demissew said.
Demissew obtained B.Sc degree majoring Chemistry with a minor in Biology from Addis Ababa University. He received M.Phil degree in International Health (Biotechnology/Immunology) from the University of Bergen, Norway in 1993 and a PhD in Epidemiology/Public Health from the same university in 2010.
He has outstanding experience in building and leading multi-disciplinary teams, and bringing consortium projects to success including managing big grants. He is top performer with high level of technological and technical expertise, alongside with hands-on management experience, on molecular biology/biotechnology, microbiology, immunology, histopathology, and public health issues. He has a good experience of advising M.Sc and PhD thesis research students and staff. Moreover, he has the experience of developing curriculum in higher learning institutions, and organizing workshops, conferences and seminars. Furthermore, he has an extensive experience of writing up project proposals for grant applications, and publishing original articles in peer review journals as author & coauthor.
Dr. Demissew brings to his new role over 27 years of experience as an instructor, advisor, researcher and curriculum developer at higher learning institutions, and manager of consortium projects, both in government and non-government organizations. "We are delighted to have him join our team as Planning & Program Manager. He has all the skills and experience that Hamlin needs, and I'm optimist that his contribution will be enormous in realizing HFE's mission and vision," said Dr. Tesfaye Yacob, HFE CEO, adding that the success of any organization depends on the cumulative success of the projects that the organization manages.
---
Senior Fistula Surgeon, Dr. Mengistu Tefera
A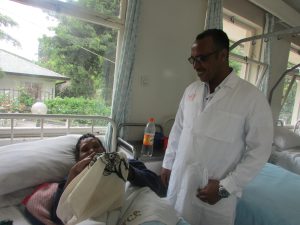 s its effort to provide a well-rounded care and treatment for its fistula patients, Hamlin Fistula Ethiopia welcomes Dr. Mengistu Tefera, Obstetrician and Gynecologist, as its new medical staff. "We are delighted to welcome Dr. Mengistu to our medical staff," said Dr. Tesfaye Yacb, Hamlin Fistula Ethiopia CEO.  "Trained fistula surgeons are in short supply, and Dr. Mengistu is a great addition to our medical team as we continue our efforts in the care and treatment of fistula injuries," he added.
Dr. Mengistu brings to Hamlin more than 13 years of work experience, ranging from general health practitioner to university lecturer. He has joined Hamlin as a senior fistula surgeon, and offers a full range of services in his medical practice.  "I'm excited to continue the excellent fistula care and treatment the organization has already been providing," said Dr. Mengistu, adding, "I love practicing in the field because it gives me time to listen to and address my patients' concerns." My philosophy is to treat the 'whole' person by addressing our patients' psychiatric, physical and emotional needs. Fistula has profound and devastating consequences for the patient's physical and physiological health, he further noted.
Dr. Mengistu recalls the moment he was impressed by the good deeds of Hamlin Fistula Ethiopia. " I came to know Hamlin for the first time some five years ago. I was taking a three-month-training at the Addis Ababa Fistula Hospital, and was deeply touched by Dr. Catherine's life-saving mission, and immediately promised to myself to contribute my share. And since then, I've been looking for opportunities to join Hamlin. I'm glad I've made it." "Nothing else could be more satisfactory than helping the very poor women and young girls of my country who have suffered from the physical, psychological and social effects of fistula for years, and getting them, at the end, totally cured and back home with full dignity," he added.
---
Information and Communication Manager, Dr. Teshome Tafesse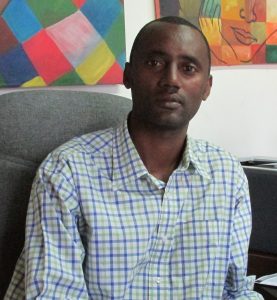 HFE has also welcomed Dr. Teshome Tafesse as a new Information and Communication Manager. Dr. Teshome brings over 15 years of experience in universities, media institutions, embassies and non-government organizations both in Ethiopia and abroad.
In his new capacity as Information and Communication Manager at HFE, Dr. Teshome will guide the overall communication efforts, both internal and external, of the organization. "I'm honored to be part of an organization that is dedicated to providing excellent fistula care, treatment and prevention," he said, stating that effective communication stimulates actions on obstetric fistula among decision makers, opinion leaders, medical personnel, and affected communities.
Prior to his current position, Dr. Teshome served as a Communication Manager for Investment Climate Facility for Africa, and Communication, Partnership and Fundraising Manager for Love in Action Ethiopia. His experience also includes an Assistant Professor of Media and Communication Studies at Addis Ababa University, Reporter and Editor at the American Embassy, and Documentary Film Producer at Walta Information Center. His international experience, among others, includes a Community Living Counselor at the Institute of Catholic Charities, and Case Manager at Bread for the City in Washington DC, USA.
Dr. Teshome has also worked as a Communication Advisor and Consultant for a number of local and international NGOs. In a voluntary capacity, he has served as Board Chairperson for Care for Life Ethiopia, a local NGO, and Continental Revivalists' Association. As part of his scholarly contributions, he has produced a number of publications, and made various presentations at national and international seminars and conferences. "Dr. Teshome's extensive experience in national and international settings and proven track record in organizational relationship building will significantly contribute to the realization of Hamlin Fistula Ethiopia's mission and vision," said Dr. Tesfaye Yacob, HFE CEO.