The Hamlin College of Midwives (HCM) graduated 20 female candidates, 7th batch since its establishment in 2007, with BSc Degree in Midwifery on Saturday, July 15, 2017 at its College's Compound.  Families, friends, staff, Board of Trustees, and representatives from partner organizations, embassies and the government, as well as honored guests from overseas attended the ceremony and celebrated the graduates' accomplishments as they completed a significant step in midwifery education.
Dean of the College, Ato Zelalem Belete, along with Hamlin's Chief Executive Officer, Dr. Tesfaye Yacob, and Co-founder, Dr. Catherine Hamline, presided over the College's seventh-graduation ceremony. "This is a tremendous milestone that you have reached," Ato Zelalem said, while congratulating the graduates for their successful achievements.  "One thing that you have gotten here at Hamlin College of Midwives – in addition to your subject matter- is serving your community to the best you can. That requires compassion, dedication, commitment and belongingness. I'm glad that you've all this," he noted. "These 20 graduates will raise the total number of skilled female midwives to 125, trained and deployed by the College since 2007," he further noted.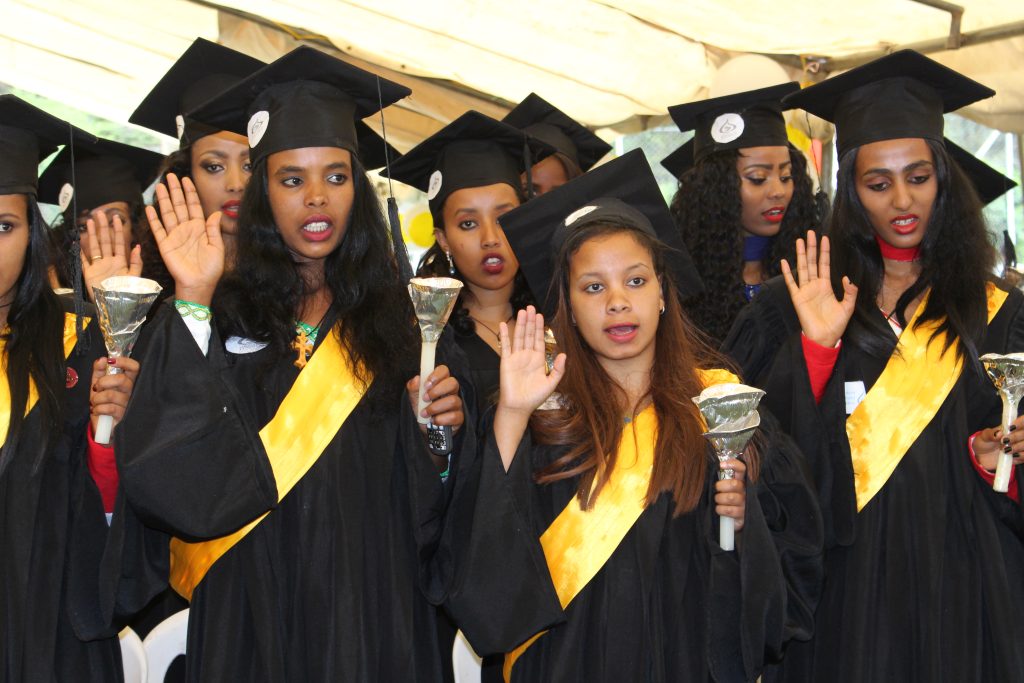 Chief Executive Officer of Hamlin Fistula Ethiopia, Dr. Tesfaye Yacob, also spoke at the ceremony. "Congratulations for you've officially joined today the oldest profession in human history. Through your respected practices, you are contributing to the final task of eliminating Obstetric Fistula and transforming the services of Hamlin Fistula Ethiopia towards Comprehensive Maternal Health Service Unit," he said.
"The main thing I hope you will have learnt from your training here and from our hospitals is to love. If you love your work you will put your mind and hearts into it, and soon find that you enjoy your work , and so it will not be a burden, but a joy as you witness and help a new baby to be born and join this World's population," Dr. Catherine Hamlin, co-founder of the Hamlin Fistula Ethiopia, addressed the graduates.
Hamlin Fistula Ethiopia oversees the Addis Ababa Fistula Hospital and its five regional centers, the Hamlin College of Midwives, and the Hamlin Rehabilitation and Reintegration Training Center (Desta Mender).  The Hamlin College of Midwives was established in 2007, and has so far graduated more than 125 skilled female midwives with BSc Degree and deployed them back into their communities.