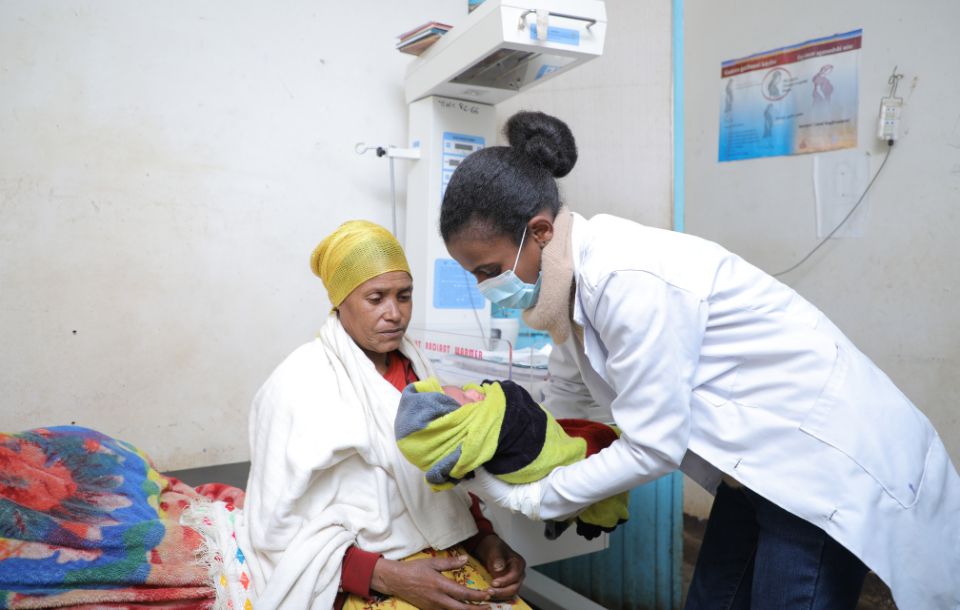 "We are delighted to be graduating well clinically trained midwives who work in their own home areas preventing fistula… My dream is to have a midwife in every village of Ethiopia."

– Dr Catherine Hamlin
The Hamlin College of Midwives continues as a centre of excellence for the training of midwives in Ethiopia.
Since 2007, 234 Hamlin Midwives have graduated from the College and been deployed back to their local areas to provide quality maternal health care. Hamlin Midwives support, nurture and empower women to be informed about their reproductive health and the care services that are available.
In FY22, Hamlin Midwives at the 90 Hamlin-supported midwifery clinics across rural Ethiopia vastly improved health outcomes for expectant mothers and families – they delivered 18,606 babies and prevented countless fistula injuries and neonatal deaths. In FY22 there was not one maternal death in a clinic where a Hamlin Midwife was placed.
This year, we also welcomed Konjit Kassahun as the incoming Dean of the College and Head of Hamlin Fistula Ethiopia's nationwide Prevention Program encompassing the clinics and midwives. Konjit was formerly the Matron and Head of Nursing at Addis Ababa Fistula Hospital.
FY22 Statistics: 
26,634 pregnant women seen for their first antenatal check
68 students currently undertaking their BSc Degree in Midwifery
31,945 women received contraceptive services
Hamlin's Postgraduate Masters in Midwifery
---
Hamlin is proud to have launched a MSc in Clinical Midwifery degree at the Hamlin College of Midwives.
The first intake of 31 students began in January 2022 and another intake of 30 students will commence in January 2023, with approximately 50% of these being former Hamlin BSc graduates.
Goals of Hamlin's Masters in Midwifery include; reducing new incidences of obstetric fistula and maternal/neonatal deaths, increasing the number of safe deliveries and providing quality neonatal care post childbirth.
Graduates from Hamlin's Masters in Midwifery will be able to perform caesarean deliveries in health clinics, a game changer for maternal health in remote areas of the country. They will also form the next generation of midwifery educators.
Victoria Birth Simulator
---
Over the past year, post-graduate students at the Hamlin College of Midwives have been using an interactive state-of-the-art 'Victoria S22– Labour and Delivery Simulator', acquired to complement their clinical training.
The Victoria model features fully programmable physiological parameters. Students learn to perform emergency caesarean deliveries, manage intraoperative and postoperative complications as well as practise neonatal care.
Victoria's symptoms and reactions are controlled through a laptop, allowing students to engage with dynamic scenarios that imitate those they will face working in the field.